by Gerry Manacsa
This is a story about perseverance. A simple tale of grit overcoming adversity… and inertia. It's a call to action for a good cause. And it also happens to be a story about my wife, Karina.
Two years ago, burdened by an illness that had knocked her body into imbalance, Karina could at best struggle through one slow jogging circuit of our neighborhood park (about a third of a mile, or the upper limit of my own non-runner's range).
A year later, after dramatic lifestyle shifts that largely eliminated some life-long favorites (farewell, white rice!) and added good-sized helpings of cycling and other activities, she had shed thirty pounds and moved her body back toward equilibrium. Steeled with this rediscovered power, she was able to battle exhaustion to complete a duathlon that demanded 14 miles of cycling sandwiched between two three-mile runs.
Just four months ago, after continued food tweaks and further upshifted levels of activity, Karina easily finished an 11 km night run, and she had grown ready to commit to something bigger — a greater challenge to push her forward, and an equally great cause that could inspire such an effort.
The challenge was easy enough to find. The Livestrong Half Marathon was coming up in Austin, only months away. Long enough to train, but close enough to push it. And its 13.1-mile distance was within reach, even as it was unthinkable only a year or two before.
It turns out the corresponding cause was as readily available as the challenge — it was right in front of us all along. Our friend Theresa had founded a non-profit called Bel Inizio, which "helps disadvantaged women develop self-confidence and life skills through home gym ab machinebest exercise rowing machine we had.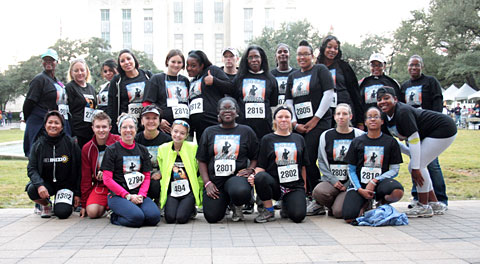 Bel Inizio volunteers and the Santa Maria Soldiers training team prep for the Great Pumpkin 5K
Since its inception in 2010, we've been working out with the athletes-in-training of Bel Inizio, getting healthier even as we came to know the women who shared with us the calming cadence of a long walk or run. As Karina journaled her training experiences and contemplated the many good reasons she was running the marathon, she wrote, "Each woman I've met at Bel Inizio is a reason."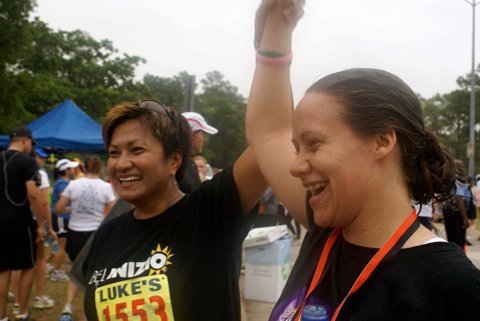 Karina and Misty celebrate at the 4 for the Park finish line
Now in the final days before the Livestrong race, we're gathering our gear (and our dog Giles) for Austin. While Karina has spent many of the long hours of her training running solo, often through the darkness, rains and chill of a Houston winter, she knows we're bringing with us the support and well wishes offered by friends and family, acquaintances and loved ones. These have been warming her all along as she was running her many miles so far, and they'll go a long way toward powering those final thirteen miles in Austin.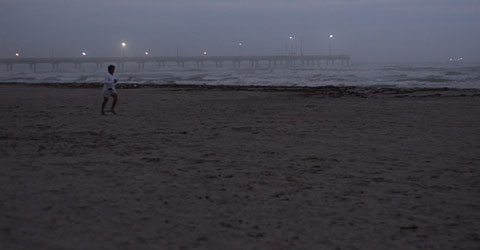 Winter training on the beach, Mustang Island
If you'd like to support Karina and help Bel Inizio, click the button below to make a (tax-deductible) contribution. Any amount at all would make a huge difference.
You can also write Karina a quick note to wish her good luck on her Facebook Running for Bel Inizio page. Thanks again for all of your support and well wishes.